History
<![if !vml]>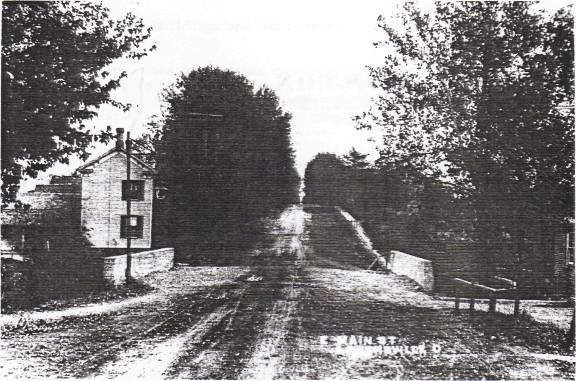 <![endif]>
EAST MAIN STREET SHOWING THE BRIDGE AND TEXAS HILL. ON THE RIGHT IS THE OLD HARNESS SHOP.
A Glance at the Past: The Origin of Owensville
(Written approximately 1988)
The town of Owensville in Stonelick Township, Clermont County stands on Dr. Richard Allison's Revolutionary War military land grant, which was originally 441 acres.
The first man to be called "Surgeon General" of the United States, his two-story double-log cabin stood on the north side of U.S. 50 just east of the intersection of State Route 222 and U.S. 50. The area was originally named Allisonia after him. He died there in 1816 and was buried in Cincinnati, the site of Ft. Washington where he served under Gen. "Mad" Anthony Wayne in the early 1790's.
In 1792, pioneers built a small log cabin and deadened the timber about a mile above the mouth of Stonelick creek, but immediately were run out by the Indians. The hut stood empty until 1798 when Dr. Allison's brother Henry moved into it. The next year, the doctor himself moved in and remained there until his big hewed log house was built. As owners of Stonelick Township, Dr. Allison and his brother were its first residents. Others who followed the Allisons into the area were some of the first families to settle in the vicinity of what is now called Owensville. They included John Metcalfe, Richard Hill, Richard Taliaferro, Josiah Prickett and Conrad Harsh.
1802, Conrad Harsh settled on a farm north of Owensville, which later became the property of F.X. Iuen. Harsh' Run names the stream and the surrounding land by the bridge on the east side of town, that was to be renovated in 1989. Harsh was the first blacksmith in the area, and he and Elza Cook also did carpentry from 1828-1831 on what was later to become the site of St. Louis Catholic Church."
<![if !vml]>
<![endif]>
The village of Owensville was originally named Boston when it was laid out in a triangle shape, as were many other hamlets at this time. The original boundaries of Boston were determined by James McKinnie in 1836. The village first consisted of lots numbered from one to seventy, and the main street was sixty feet wide. Additions to the village in later years expanded the town to the north, south and west of the Main Street and Batavia Road (132) intersection.
According to Rick Crawford, reporter and historian, "The village was originally named Boston for one of two reasons. Either the first families came from Boston, Massachusetts, or the first settlers wanted to name it after our nation's Cradle of Liberty."
Boston's First Buildings and Businesses:
Boston, like every other community in the county in the nineteenth century, had to be self sufficient. From the blacksmith to the carpenter or undertaker; from the leather tanner to the shoemaker, tailor or distiller, everyone with these skills and many others contributed to Boston's growth.
In 1824, the first house was built by Cranston Lewin, which was just the beginning of the development of Boston. The first house was a small two-story log cabin which later had some additions and was weather boarded. The house was built on land that first belonged to Conrad Harsh. Harsh owned the property on the northern side of the village, which included the small stream running through the eastern part of Owensville and the surrounding land, called Harsh's Run. Mr. Elza Cook assisted Lewin in building this first structure on the northeastern corner of the intersection at Route 50 (Main Street) and Belfast (Goshen-Belfast) Road. Eventually Lewin's original building was torn down and removed to another part of the village in 1877, but not before it was used as a store by William Owens. Owens however, left Boston in 1833, and then Harsh and Elza Cook kept a store at this site until they sold out to Christian Zugg in 1835. Zugg kept the store until 1837, then sold it to Peter Anderson. He had the store until 1857 when F.X. Iuen purchased it. The store was there until 1877 when it was torn down and replaced with Iuen's Hotel. Today Iuen's building is used by Bank One and a television cable company.
<![if !vml]>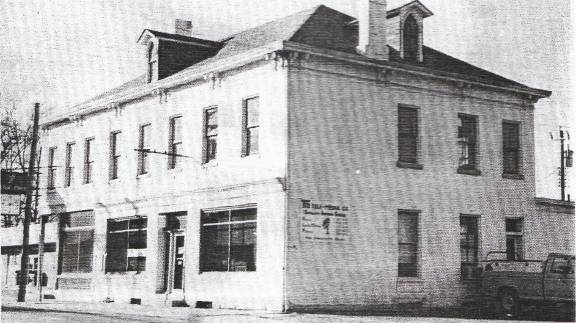 <![endif]>
ONE OF THE OLDEST BRICK BUILDINGS IN TOWN BUILT BY F.X. IUEN ON THE NORTHEASTERN CORNER OF ROUTE 50 AND BELFAST (THE SITE OF THE FIRST HOUSE BUILT BY CRANSTON LEWIN), THIS BUILDING IS PRESENTLY USED AS OFFICES FOR BANK ONE AND THE CABLE TV COMPANY.
The second house was built by William South a few months after Lewin's. South owned the property to the south of Main Street in the village and built his log cabin on the southwestern corner of the same intersection. Both this house and the Lewin structure were obtained by William Owens several years after they were built. Owens opened his first store in 1827 in the South building; then in 1828 bought the Lewin cabin and opened another store there. The South building eventually became the hall for the Order of the Odd Fellows. Today the site is occupied by the Marathon Gas Station.
The third house was built by James McKinnie in 1827 on the site of what is today the SOHIO Gas Station. His building was a one and a half story, 18 by 24 frame structure which became McKinnie!s store in 1832. Later it was moved and became the property of Charles Legrand.
The first brick building in Boston was built much earlier than Iuen's brick structure and replaced McKinnie's house on the same southeastern corner of the intersection. Zach Robinson built this first brick building in 1838 which was to be used as a residence and store. In 1844, Robinson sold the building to William Ulrey who kept a tavern there for a couple of years. This building later became known as the Old Boston House. At the time this building was constructed, it was one of the largest brick buildings in the county.
<![if !vml]>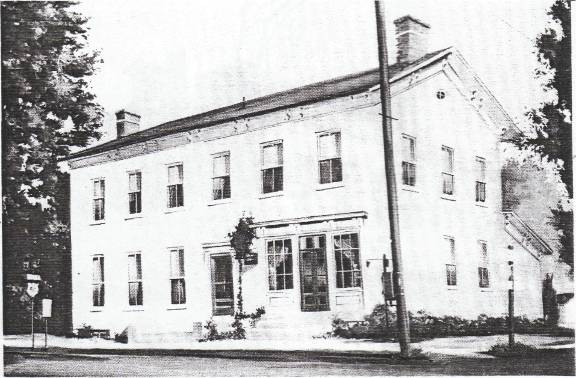 <![endif]>
THE OLD BOSTON HOUSE, FORMERLY THE ULREY HOMESTEAD AND STORE. THIS WAS THE FIRST BRICK BUILDING BUILT IN THE VILLAGE AND ONE OF THE LARGEST IN THE COUNTY WHEN BUILT. IT WAS BUILT BY ZACK ROBINSON IN 1838. TODAY THE SITE IS THE SOHIO STATION.
These first buildings and numerous early stores were followed by new businesses and growing industry. In addition to taverns kept by Ulrey, B.C. South, Zach Robinson and even earlier by Peter Anderson, there was also a distillery. The distillery was built and owned by James South and John Vandervort and was located where the old Methodist Cemetery remains on Jackson Pike and Route 132 (Goshen-Belfast Road). This corner at the south end of Boston later was the original site of the first Methodist Church in the village.
<![if !vml]>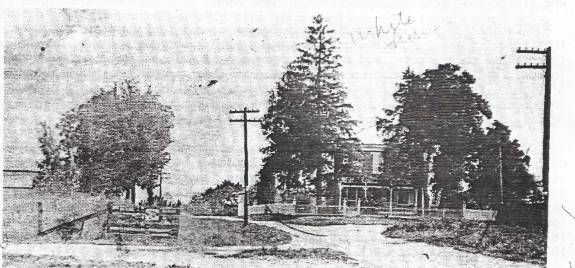 <![endif]>
THE INTERSECTION OF SR//276 AND 132 AND JACKSON PIKE IN THE EARLY 1900'S, JUST SOUTH OF THE ORIGINAL VILLAGE BOUNDARIES. THE JACKSON PIKE CORNER IS STILL THE SITE OF THE OLD METHODIST CEMETERY. THE HOME AT THE INTER­SECTION IS PRESENTLY OWNED BY JOHN CUGEBER AND WAS FORMERLY OWNED BY FRANK SCHOBERT.
Numerous blacksmith shops and a brickyard located on the southeast corner of Market Street and Johntown Road operated by Duchemin, existed early in Boston's history. Conrad Harsh's blacksmith shop was just outside the village and was one of the first businesses to serve Boston. The first blacksmith shop within the original village limits of Boston was built in 1829 by a man named Beard. Harsh's shop, three hundred yards north of the village line, opened in 1816. Harsh left in 1832, and in 1835 Thomas Carty carried on at the same site as blacksmith until 1844. Other blacksmiths included John Latsch who had a shop from 1840 until 1846 and William Lattimer whose shop was in business until 1873. The same year Johnston and Manning occupied Redding's shop until 1875, when it then became the shop of Berger and McCollum, then Eerger and Motsinger. Others who also worked as blacksmiths and had shops included Daniel Hilderbrand, Richard Stoten and John Cooper.
The first carpentry shop was also just outside of Boston when it opened on the site of what is now the St. Louis Church. Conrad Harsh and Elza Cook shared this shop, and in 1820 Marsh's carpentry produced the first grain cradle in Stonelick Township. The first shop to open in the village was that of Jonathan Whittaker in 1847. O.K. Hill also shared this shop which was newly constructed that year. A man by the name of Masters also made grain cradles after Harsh, although the location of his shop is unknown. In 1866, Benjamin Cline began making them in his shop and enjoyed the reputation of being one of the most skillful carpenters in the county until his death in 1874.
Cabinet shops also flourished in Boston's early days as a village. At that time, it was customary for the cabinet maker, who also produced caskets, to serve as undertakers, and most of those who had cabinet shops did just that. In 1837, William Roudebush opened his shop and also served as village undertaker. After him, Francis Shumard established his shop on lot No. 10 and did cabinetry and undertaking from 1842 to 1846. Jasper Hensel and James Pattison followed. Hensel worked until 1869 and Pattison continued his work until 1878.
In March, 1867, Albert Redding built a chair factory on lot No. 52 at a cost of $5,000. It was a two-story frame building, 60 by 40 feet. The lower story was used for the bending machine, turning lathes, and engine room; the upper for a storage room and place for assembling and "bottoming" the chairs. Its capacity was about 120 dozen chairs per week, and it produced enough material for that many more. On an average, it gave employment to about 40 people. In 1870, Redding rented it to Henry, Peter and James South who had it until August, 1871 when it was sold to William Roudebush and removed to Newtonsville.
In 1875, Pattison also began to manufacture chairs. Although he only had a few years to work at this new industry, he gave employment to about 20 people and manufactured about 400 dozen chairs a year during his three years in business. Pattison was preceded by a number of other chair manufacturing businesses in Boston.
<![if !vml]>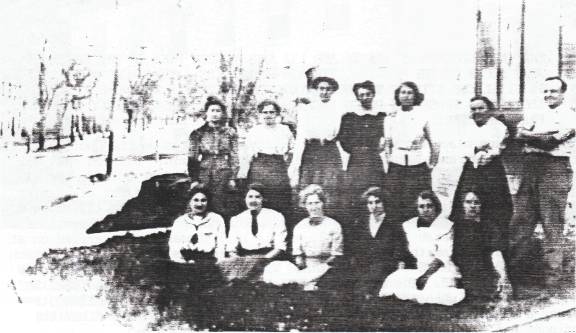 <![endif]>
Wagon makers also came to Boston. Jacob Rell was Boston's first wagon maker and he built his shop in 1839 where he worked until 1853. Several years after Rell came to Boston, Theodore Davis opened his shop and worked at making wagons for a few years. Then in 1857, James Pattison built his shop on Main Street where his son R.G. Pattison continued to work until 1871.
Cooper shops were also especially numerous during Boston's early years as an incorporated village. Such shops made casks, kegs or barrels and put Boston in the forefront of this type of production. The first cooper shop, although not exactly within the limits of the village when built in 1833, was owned by James South, who built it and employed 10 people there until 1841. In 1854, A.D. Daugherty built a shop in town on lot No. 16 and employed about six people. Barrels continued to be manufactured by others at Daugherty's old shop after 1860 by Joseph Courtot, who also ran another shop near the Catholic church, which he obtained from the Daufeau brothers who sold it to him in 1856. Courtot employed an average of 60 people and manufactured over 500 barrels a week. In 1869, Peter Coleman built a shop, and in conjunction with A. Marshal, who had a small shop on Johntown Road, commenced the manufacture of barrels which kept 15 people employed. All of these shops were numerous from about 1840 until as late as 1873 and made Boston more productive and profitable in this business than any other village in Clermont County at the time. There were over 50,000 barrels turned out annually in Stonelick Township during this period, and most of them came from Boston.
<![if !vml]>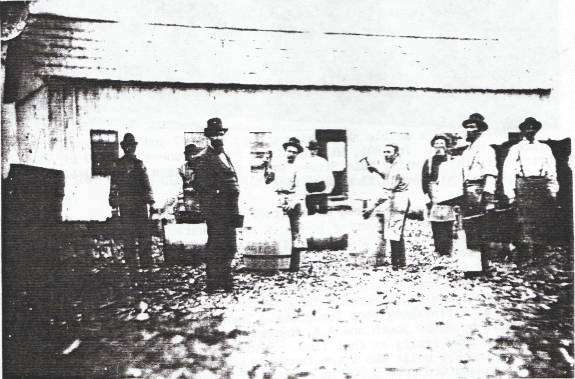 <![endif]>
MEN WORKING AT THE COURTOT BARREL FACTORY AT THE CORNER OF JOHNTOWN ROAD AND MARKET STREET. PRESENT SITE OF JOHN DIGAN'S FARM.
The first harness maker was Walter McKinnie who began his work in 1845. Later, harness makers named J. Harvey, Apgar, A.V. Smith, J. Rodecker, T. Marsh, P.V. Petard and J. Snider opened businesses.
<![if !vml]>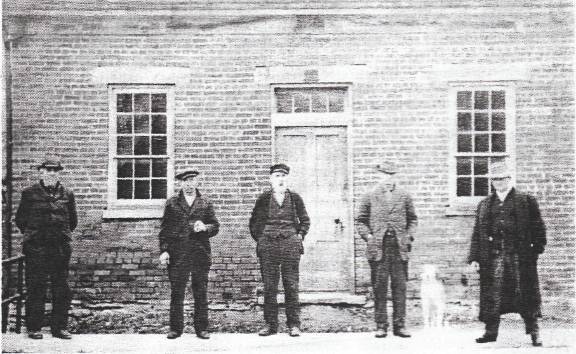 <![endif]>
"HARNESS SHOP" DOWN BY FOOT BRIDGE, BUILT IN 1845 BY JOHN SNIDER. PICTURED ARE: SPENCE QUITTER, FRANK SNYDER, ANDREW SNYDER, MOSE GILLMAN AND RODNEY JINKS.
Boston had a marble shop which opened in 1877 and was operated by P.G. Bracelin in 1879. In '1846, William Ulrey built a one-story, 30 by 50 feet, brick building fronting Main Street which he used as a pork house. It was not used after 1850 and was torn down in 1877.
Shoemakers and tailors, in addition to the numerous dry goods shops and grocery stores, emerged during Boston's early years. Among the first, if not the first shoemaker in Boston, was Brittain Canain, who had a shop near the footbridge across Harsh's Run on lot No, 12. It was built about 1835 and occupied by Canain until he sold his tannery to John Snider in 1845. John Snider improved upon Canain's tannery production. He built a brick building on the opposite side of Harsh's Run, across from Canain's shop and used this building as a finishing room for hides. Then in 1860, he bought the steam saw mill built by Henry South and A.A. Robinson, which was located just north of the Boston town limits at that time. Snider moved his tannery vats there and- then in 1861 built the steam tanney which adjoined his mill. Snider was able to manufature over 2,000 hides annually there while employing only six workers. Canain's capacity had been only 200 hides a year. Other shoemakers who built shops and did business in the village were Jonathan Rust in 1849. George Riggs in 1853 and B.C. South and Robert Davidson at about the same time. Also having shops from 1860 to 1870 were a. Burkle, C. Legros, H. Schon, H.H. Merse and M. Meagley on lot No. 62.
The first tailor in Boston was Strange Hunt, who had his shop on lot No. 19 where he worked from 1841 to 1845. After him came George Shanedoney who tailored from 1844 to 1851. About the same time, Jacob Cover also did some work. In 1861, J.G. Oonk had a shop in the house which later became the property of F.X. Iuen on Main Street. Then later kept a shop in a small building on property that he later sold to Rev. F. Hypes. He also had two other small buildings after that, one which he used as a tailoring shop and the other as a dry goods store in which he sold clothing from 1868 to 1871.
<![if !vml]>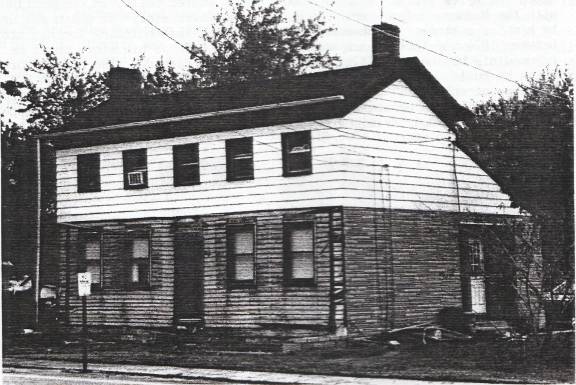 <![endif]>
FORMER "TURN OF THE CENTURY" MILLINERY SHOP OF ELY FAVRET ON WEST MAIN STREET.
The earliest of the general and grocery stores in Boston began with William Owens in 1827. Owens left Boston in 1835. He was succeeded by James McKinnie's store which opened in 1833 at the southeastern corner or Main and Broadway. Conrad Harsh and Elza Cook kept a store from 1833 until 1835 when they sold out to Christian Zugg, who kept it from that time until 1837. Zugg, in turn, sold the store to Peter Anderson who kept it until 1857 when he sold it to F.X. Iuen. He kept a store there until the building was torn down in 1877. In 1834, D.K. Hardin had a store which eventually was moved to the site that became E. Dimmitt's store in 1847. Dimmitt built a new store on this site in 1854 and at the same time H. Gall also kept a grocery store for a few years. Then in 1860, Joseph Foster built, in conjunction with the Masons, a large brick building, the lower story of which was used by him for a store. Stephen Robinson used this same building for his store between 1874 and 1876, years which Foster did not use his store until he resumed his business in 1876. In 1851, William Pattison also had a store which he built, and he did business there up until 1874 when his son L.A. Pattison occupied, it. In 1876, John Felter built a store opposite St. Louis Church, and he did business there for two years before selling this property and buying J.G. Oonk's tailor shop on Main Street where he continued to keep a larger grocery store.
<![if !vml]>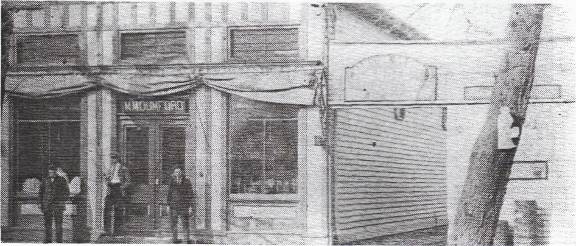 <![endif]>
DUMFORD STORE (1916), PICTURED ARE M. DUMFORD, C. WILLIAMS AND C. BUERKLE.
<![if !vml]>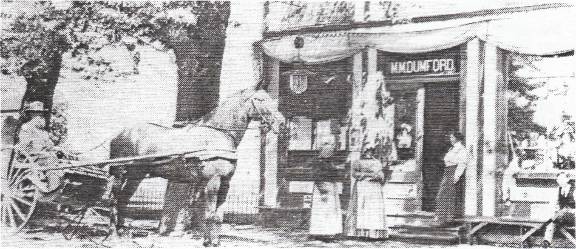 <![endif]>
WEST MAIN STREET, OWENSVILLE—DIJMFORD STORE (EARLY 1900'S) AND PRESENT SITE OF THE IGA.
The post office in Boston was originally established on the corner of State Route 132 (Batavia Pike) and Short Street in 1833. At that time, Boston became known as Owensville, William Owens being the first postmaster, for purposes of mail delivery. Prior to 1833, Boston received its mail from Williamsburg, Batavia or Milford, whichever was the most convenient. The first weekly mail was carried by stage from Milford to Chillicothe. From 1833 to 1840, several changes were made as to carriers and routes. The mail was delivered three times a week; then daily by omnibuses that ran between Milford and Fayetteville. In 1835, Elza Cook was appointed postmaster and served in that capacity for a few years. Christian Zugg took it over in 1837. From 1840 to 1844 Z. Robinson had the office. In 1845, Peter Anderson was appointed, and he kept the position until 1850 when William Ulrey took charge of it. In 1855, E. Dimmitt was appointed by Amos Kendal, Postmaster General, to fill the vacancy caused by the resignation of William Ulrey. In 1873, there was a cross mail route from Batavia to Blanchester which also stopped at Boston. This mail was carried by a boy on horseback and was in operation for two years. With the completion of the Cincinnati and Eastern Railroad in 1877, Fayetteville and Perin's Mills became the terminals of the route which was a daily one. The mail was carried by Dennis Maher at that time, who was the proprietor of the omnibus line that connected those terminals. From 1870 until about 1900, there was no post office in the county that distributed its mail to a greater area than Owensville. The office around this time was moved to Main Street.
<![if !vml]>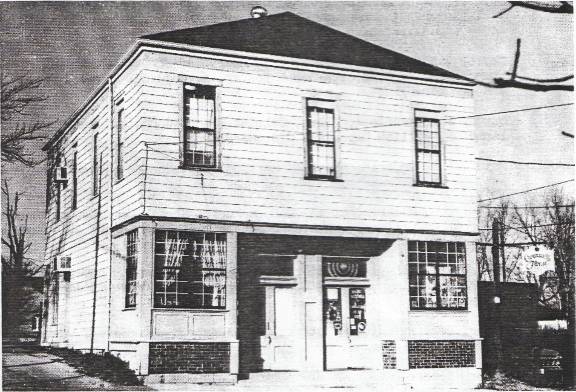 <![endif]>
THE OLD POST OFFICE AT THE TURN OF THE CENTURY WAS THE BUILDING IN WHICH J.C. FETTER FORMERLY RAN A FARM IMPLEMENT STORE, HANDLING MC CORMICK REAPERS, BINDERS, ETC. FETTER ALSO HAD A NOTION STORE ON THE OPPOSITE SIDE OF THE STREET. TODAY THE BUILDING IS AN ANTIQUE SHOP AND FLORIST SHOP RUN BY MRS. BRENDA YOUNG. APARTMENTS ARE UPSTAIRS, AND THE PRESENT OWNER IS TIM KEENAN.
Also in 1877, a prison was built on lot No. 54 and it fronted on Short Street. The cost of this structure was $146. Then in September of 1879, the town had a well dug on lot No. 121. The well cost $45. Although at this time, Boston had no water works or fire department, it was considered to be one of the best inland towns in the county and one that was rapidly growing in wealth and population.
The town of Boston was officially incorporated on June 5, .1867 with 77 acres. There is no record of the first election of officers in that year, but the following names appear in the minutes of the commissioners' meeting: Mayor, J.N. Pattison, who refused to serve for some unknow reason and Robert Davidson who was appointed in his place; Councilmen, J.L. Combs, G.W. Ferree, Dennis Maher, L.M. Bickmore and C.J. Harrison. C.J. Harrison was elected by the board as Recorder; L.M. Bickmore, Treasurer; and Mathias Coleman, Marshal. The incorporation was effected by a petition made to the commissioners of the county, January 10, 1967 which prayed for this privilege under the general statue. It was signed by B. Blythe, William South, G.W. Ferree, E.E. Peck, J. Rust, commissioners who granted the prayer on June 5.
Other early officials of the town are as follows:
1868 - Mayor, E. Cline; Clerk, J.L. McKahn; Street Commissioner, David Apgar;
Marshal, John Warman; Councilmen, D. Malyer, F.X. luen, Nicholas Favoret, J.M. Pattison and D.H. Hill.
1869 - Mayor, John G. Oonk; Clerk, J.F. South; Street Commissioner and Marshal,
G.W. Daugherty; Councilmen, D. Maher, O.P. Hill, A.D. Daugherty, Samuel South and A. Freshard.
1870 - Mayor, F.M. Maxfield; Clerk, C.J. Harrison; Street Commissioner, S. Hoagg;
Councilmen, M. Meagley, Joseph Foster, A. Redding, William Ulrey, B. Blythe and A. D. Daugherty.
1871 - Mayor, F.M. Maxfield, Clerk, C.L. Harrison; Councilmen, A. Quitter, J.D.
Simonton, William Ulrey and C.J. Harrison.
1872 - Mayor, L.H. Medaris; Street Commissioner, John Gates; Councilmen, Andrew
Snider, Joseph Hanold and William Ulrey.
1873 - Mayor, L.H. Medaris; Clerk, Lorain Marsh; Street Commissioner, John
Dumford; Councilmen, B. Blythe, Joseph Gomien, M. Meagley, W. South and David Mitchell.
1874 - Mayor, Robert Davidson; Clerk, Lorain Marsh; Street Commissioner, Thomas • Marsh; Councilmen, Thomas Brunaugh, D.H. Hill, Andrew Snider and S.A.
Patterson.
1875 - Mayor, Robert Davidson; Clerk, Lorain Marsh; Councilmen, J. Vance, W.
South and David Apgar.
1876 - Mayor, Robert Davidson; Clerk, Lorain Marsh; Street Commmissioner and
Marshal, James Daugherty; Treasurer, J.N. Pattison, Councilmen, Andrew Snider, J.M. South and F.P. Brunson.
1877 - Mayor, Robert Davidson; Clerk, Lorain Marsh; Treasurer, J.N. Pattison;
Street Commissioner and Marshal, John Booso; Councilmen, J. Vance, David A. Quitter and J.M. Pattison.
1878 - Mayor, A. Quitter; Clerk, Lorain Marsh; Treasurer, L.H. Medaris; Street
Commissioner and Marshal, Chris Goodenkoutz; Councilmen, T.A. Mitchell, J. Felter, H.H. Mers and Albert Tice.
Prominent Names from Owensville's Past
<![if !vml]>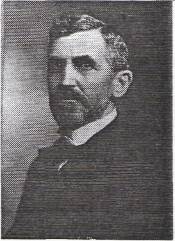 <![endif]>
John M. Pattison - Governor of Ohio
This is about John M. Pattison, the only Clermont County native to serve as governor of Ohio.
In the Clermont County village of Owensville, on Sunday, June 13 1847 was born John M. Pattison.
He was born to William Pattison and his wife Mary Duckwall Pattison in the family home. The home was located on Broadway Street (SR//132) five houses up on the right side (or east side) from Jackson Pike.
<![if !vml]>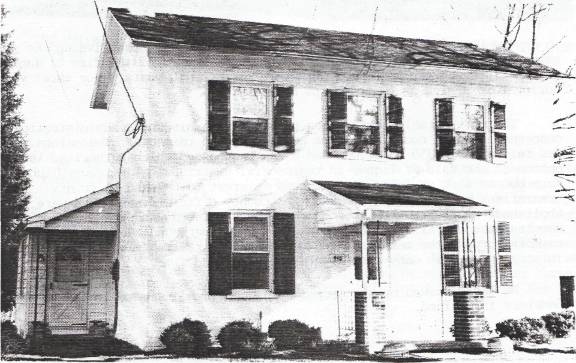 <![endif]>
BIRTHPLACE OF OHIO GOVERNOR JOHN PATTISON (1847). THE HOME OF MRS. AGNES GAUCHE ON SOUTH BROADWAY
William Pattison was a local merchant. His son John began a successful working career in his father's store and on farms around Owensville.
It is believed that the Pattison's were working in the family store when General John Hunt Morgan and 2,000 Confederate cavalrymen rode through the village about noon on Monday, June 13, 1863, No report is given of the store being bothered by the rebel horsemen, although it was common practice for them to inspect the businesses of the villages they passed through.
The visit by Morgan's men, and the mistreatment of an old man in the village on that afternoon, may have prompted the 16 year old Pattison's enlistment in the 153rd Ohio Volunteer Infantry in 1864.
An old war veteran, the elderly man had climbed into the steeple of the Owensville Methodist Episcopal Church (now the Church of Christ on Main Street-US#50) and fired on the rebels. He was rousted from the steeple and forced to ride behind one of Morgan's men while the United States flag he had hung from the top of the steeple was dragged through the dusty streets.
When Pattison returned from the War Between the States, he entered Ohio Wesleyan University in Delaware where Byron Williams, noted Clermont County historian had attended.
To support his pursuit of a higher education, he taught school in the winter and worked in the harvest fields in the summer. He managed to graduate with the Class of 1869 despite having attended just 29 months of classes.
Pattison's first employment after graduation was as the head of an agency for the Union Central Life Insurance Company in Bloomington, Illinois.
He soon became tired of the insurance business and returned to Cincinnati to study law in the office of Alfred Yaple. He was admitted to the bar in 1872 and became the attorney for the Cincinnati and Marietta Railroad. He resigned from this job in 1873 when he was elected, as a Democrat, to the state legislature from Hamilton County.
The Owensville native yearned to continue his law practive and he declined renomination to the state office. He became a member of the firm of Yaple, Moos and Pattison and practiced law with this firm for 10 years. For three years during this period he edited a law magazine.
The most notable legislation passed during his short administration concerned liquor, county salaries and funds, and railroads. The saloon tax was raised from $350 to $1,000 and a law was passed which authorized local option on the sale of liquor in residential districts. Idle county funds were put to work as loans, the accrued interest to be paid to county treasuries; salaries were provided for county officials; and fees were abolished. A two-cent railroad fare was established, and the office of commissioner of railroads and telegraphs was superseded by a railroad commission of three members. The regulation of railroads was a live issue in congress and in many state legislatures at the time.
He was survived by his second wife, Anna, and is buried in Greenlawn Cemetery in Milford.
Walter J. Malone - Canton College Founder:
Walter J. Malone, the founder of Malone College in Canton, Ohio had roots in early Owensville. His mother, Mary Ann Pennington Malone and father, John Malone, probably moved into their eight-room brick house on Main Street at the edge of the village of Owensville in 1860. Prior to that time, the family including seven children lived near Marathon in a small log cabin on 100 acres which John Malone purchased in November, 1852 for $2,400.
<![if !vml]>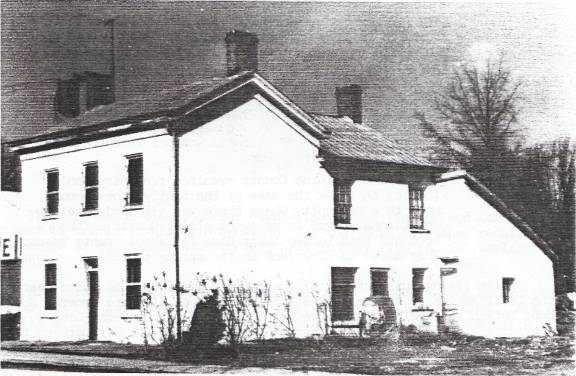 <![endif]>
THE MALONE HOME ON MAIN STREET, LATER THE FAVRET HOUSE AND PRESENTLY.THE SITE OF IGA
At the time the Malones resided in the home on Main Street, Owensville was known as Boston, and prior to the 1867 incorporation of Owensville, proprieties west of the 132 junction were just outside the village boundary line. The family probably rented their home there until 1864. However, John Malone later bought property in Boston and three acres just outside of the town. Four adjoining lots were purchased by Malone in town in December, 1862 according to Deed Book 77, page 229.' But less than a year later, he sold the three acres and one of his lots for $450. On October 15, 1864, he sold the other three lots in Boston for $2,100. The family later moved to Clinton County near New Vienna, probably around 1868.
As related in The Malone Story by Byron Lindley Osborne, the family moved to Boston from their small log house when God answered Mary Ann Malone's prayer. A zealous Quaker woman, Mary Ann had confidence that the Lord would take care of her need for a larger home. According to Osborne, one morning after an early breakfast, Mary Ann kept an eye on the lane that led up to the public road and was not disappointed when in the early afternoon a stranger stopped at the gate and drove in.
Mary Ann met him at the door. After the formal greeting, he told her that he had for rent a very nice brick house with eight rooms on the Cincinnati Pike at the edge of a pleasant village, Boston, Ohio. Her answer was, "I have been looking for thee all morning." Then she told him about her experience early that morning and the assurance she had been given in prayer. Arrangements were quickly completed and the family moved into the attractive house which became their home for eight years.
The move to Clinton County resulted from Mary Ann's feeling that for the sake of the family, they should move to a community where there was a Friends Meeting. New Vienna proved to be an excellent Quaker neighbor­hood and this became their home for about twenty years. They moved to Cleveland in the spring of 1886.
While living just outside of Boston in July, 1863, the third year of the Civil War, Mary Ann Malone met the Confederate officer, General John Hunt Morgan who led his cavalrymen in a raid through Clermont County. According to Malone biographer Byron Osborne, during the War Between the States, General Morgan with a small detachment of men on a scouting trip to replenish their supplies, came to the Malone home while John Malone was away. Mary Ann cordially invited them in and while they waited, prepared for them a good meal. In the conversation they asked her if she were afraid. "No," she said, "I am never afraid of gentlemen." But despite the hospitality and Mary Ann's plea to "leave the grey mare," the general took the mare and other Malone horses. According to the story, the grey mare began limping so badly that in disgust General Morgan said to his men, "Let her go. We have no use for a crippled old horse." They no sooner removed her bridle and released her, when she kicked up her heels and ran down the road with no show whatever of lameness. Not having the time to run her down, General Morgan and his men went on their way. Although this story is not fully authenticated, according to Osborne, the Malones are listed as having lost two horses valued at $200 in the Morgan Raid Claims in the History of Clermont County.
The Malones1 presence just outside the town of Boston is also verified by the record of John C. Malone's membership in the Independent Order of Odd Fellows Lodge 189. He was a Noble Grand of that organization in January, 1860 and again in July, 1863.
Mayme Ulrey — First Families of Owensville, Descendant and Historian:
<![if !vml]>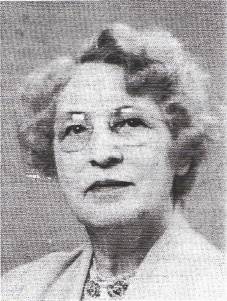 <![endif]>
The late Mayme Ulrey, former Owensville school teacher and town resident for most of her life, also wrote columns for the local newspaper recalling he memories of Owensville's historical past and her ties to its' earliest residents.
Miss Ulrey's great grandfather, Jacob Ulrey, fought in the Revolutionary War amd was the first of the family to settle in Stonelick Township. His son was William Ulrey, Mayme's grandfather, who started a store in the brick building constructed by Zach Robinson in 1838. Ulrey bought the two-story brick building in 1845 and it stayed in his family for many years. When sons Clarence and Charles Ulrey, who was Mayme's father, moved across the street in 1910, they sold the store to John Miller and it became a hotel. Later it was made into a tavern, then an antique shop run by Virginia Bullock, and finally it became a restaurant run by Owensville widoi: Cele Morris and called the Boston House Inn.
During the Civil War, an uncle of Miss Ulrey was commissioned as a captain in the Union Army when only 18. A native of Boston (Owensville), young William H. Ulrey knew of the desertion of one of the Confederate officers in Morgan's raid on Clermont County. While just three miles outside of Williamsburg, an officer was sent back from the Union forces to get the rebel after it leaked out by Capt. William Ulrey that the deserter was still hiding there after Morgan's men had left the town and wished to join the Union forces.
Capt. Ulrey was to die, however, at Stoney Creek, Virginia when he fell fatally wounded in one of the skirmishes of the siege of Petersburg before he turned 22.
Miss Ulrey, as historian, also pointed out that other early families in Boston were prominent in community life and Civil War gallantry. There were the Pattisons, to whom she was related on her mother's side, and the Roudebush, South and Marsh families. The Marsh family, she recalled, lost five sons in the War Between the States.
Other recollections found in her newspaper column revealed life in Owensville during the early 1900's. She wrote:
Some of the earlier business places were still in existence in the early 1900's. In the horse and buggy days, A.P. Buerkle and Charles Thiery had blacksmith shops, and in 1910 Albert Schmid laid sidewalks for Owensville. There was a drug store in the east end of town (a part of town referred to as Texas Hill) which was owned by Dr. B. Blythe, grandfather of Dr. Allan B. Rapp (who resided in and practiced medicine in what is now the home of the Ray Hawleys). Also, Mr. Peter Fetter ran a horse drawn bus line between Fayetteville and Perin-town for many years. Also, according to Miss Ulrey, 1920 was a dark year as the traction line including the Power House at Perintown, which supplied Owensville with electricity, and the Sub Station at Allensburg were all sold for junk. The roads were becoming almost unusable with more automobiles being run and they were being neglected by the state.
<![if !vml]>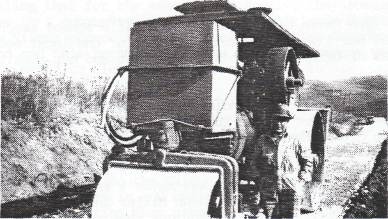 <![endif]>
CHARLES INGLE WITH MACHINE THAT MADE ROUTE 50 THROUGH OWENSVILLE
Miss Ulrey also recalled the Ohio's governor at the time, Gov. Donahey, was fighting the road appropriation for U.S. Route 50 when Col. Hugo Rudolph, a personal friend of the Governor, who owned the home which later became the property of Lester Conover, attempted to change Donahey 's mind. Rudolph, knowing that Gov. Donohey was to make a speech in Cincinnati, drove to Columbus, called on the governor and invited him to drive down home with him, spend the night there and then go on to Cincinnati. Donahey accepted, and the Colonel pulled no punches while bumping over U.S. Route 50 in his big touring car. When they finally arrived at the Rudolph home, Donahey remarked that he had never gone over such a horrible road. Col. Rudolph just smiled and said, "That is the one you think needs no money." Shortly thereafter, the appropriation came through.